The Urology Group
Our urology specialists are focused on your unique and personal health needs.
William ("Rusty") Vance Shappley, III, M.D., FACS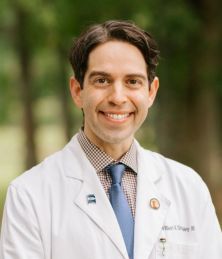 Originally from Memphis, Dr. W.V. "Rusty" Shappley, III, graduated from college at Duke University and medical school at the Columbia University College of Physicians & Surgeons in New York.  For his post-graduate training, he completed an internship in general surgery at Brigham and Women's Hospital in Boston and residency at the Harvard Longwood Program in Urology.  During his training, he was recognized with several awards, including Intern of the Year at Brigham & Women's Hospital, the First Place Max Wilscher Urology Resident Research Award from the New England Section of the American Urological Association, and a Service Award from the Boston Veterans Affairs Medical Center.
In addition to his clinical pursuits, Dr. Shappley maintains an active interest in urologic research and resident education.  He is a regular participant in teaching conferences for the University of Tennessee urology residency training program.  His research has been published in a variety of medical publications, including the Journal of Clinical Oncology, the Journal of Urology, and UpToDate.  He has made presentations at the American Society of Clinical Oncology Genitourinary Cancer Symposium, the American Urological Association national meeting, and the New England Section meeting of the American Urological Association.  He maintains active membership in the American Urological Association, the American Medical Association, the Memphis Medical Society, and the Southeastern Section of the American Urological Association.  He has served on numerous local hospital and surgery center executive committees and governing boards.
Dr. Shappley is trained in a variety of surgical techniques, including robotic, laparoscopic, and endoscopic surgery, as well as various procedures for all urologic subspecialties.  While his practice provides treatment for all aspects of general urology, Dr. Shappley carries significant personal and research interest in urinary stone disease, urologic oncology (including prostate, renal, bladder, and testicular cancer), male infertility, BPH, voiding dysfunction, erectile dysfunction, and female urology.  Dr. Shappley holds active staff appointments in the Baptist, Methodist, and Saint Francis healthcare systems, including the capacity for inpatient, operative, and outpatient care.  He also holds operating privileges at Methodist Germantown Surgery Center, the UroCenter, Saint Francis Surgery Center, and Wolf River Surgery Center.
He is currently welcoming new patients.