The Urology Group
Our urology specialists are focused on your unique and personal health needs.
Walter Rayford, PhD, MD, MBA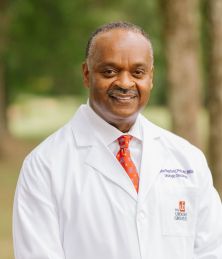 Education:
B.S. Biology, Jackson State University
Ph.D. Biochemistry, University of Kansas
M.D. Doctor of Medicine, University of Kansas School of Medicine
M.B.A. Business, University of Tennessee
Member:
Alliance for Academic Internal Medicine
American Association for Cancer Research
American Association of Clinical Urologists
American Board of Urology
American Medical Association
American Society for Cell Biology
American Urological Association
National Medical Association
Society of University Urologists
Southeastern Section of the American Urological Association
Southwest Oncology Group
Dr. Rayford attended the University of Kansas where he received his doctorate (Ph.D.) in Biochemistry in 1987, and his Medical Degree in 1991. He completed general surgery training at St. Luke's Hospital in Kansas City, MO, and urology training at the University of Kansas. Dr. Rayford completed a urologic oncology fellowship at the National Institutes of Health, National Cancer Institute in Bethesda, MD. He was certified by the American Board of Urology in February, 2002.
Dr. Rayford has published extensively in the areas of prostate cancer, benign prostate hypertrophy and health disparities. He is an Associate Professor in the Department of Preventive Medicine at the University of Tennessee. He currently holds membership with the American Urology Association, American Association of Clinical Urologists, National Medical Association and R. Frank Jones Urological Society. He provides exceptional urological care to patients in East Memphis, Southaven and Holly Springs, Mississippi.