The Urology Group
Our urology specialists are focused on your unique and personal health needs.
Vance Shappley, Jr., MD, FACS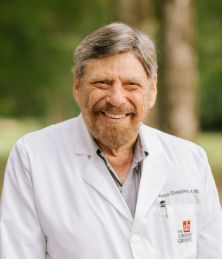 Dr. Shappley founded The Shappley Clinic in 1994 and has practiced urology in the Memphis area for over 35 years.
A Memphis native, he attended the University of Memphis for his undergraduate degree and received his M.D. from the University of Tennessee Health Sciences Center.  He also completed his internship, general surgery residency, and urology residency at the University of Tennessee.
Following active duty in the United States Air Force, Dr. Shappley returned to Memphis and entered private practice urology.  During his career in the Memphis area, he has served as president of the Memphis Urological Association and the Saint Francis Hospital medical staff.  He maintains active membership in the Memphis Medical Society and the American Urological Association.  Dr. Shappley holds active staff appointments in the Baptist, Methodist, and Saint Francis (Tenet) healthcare systems, including the capacity for inpatient, operative, and outpatient care.  He also holds operating privileges at Methodist Germantown Surgery Center, the UroCenter, Saint Francis Surgery Center, and Wolf River Surgery Center.
His practice of general urology affords him the opportunity to care for a wide range of urological issues.  His areas of greatest interest include voiding dysfunction, benign prostate hyperplasia, urologic oncology (including prostate, renal, bladder, and testicular cancer), female urology, and urologic stone disease.  He is currently welcoming new patients.