The Urology Group
Our urology specialists are focused on your unique and personal health needs.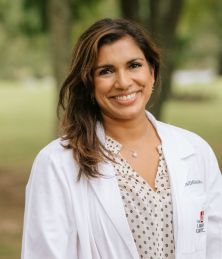 Dr. Rowena DeSouza received her B.A. in Religious Studies from the University of Virginia and graduated AOA and Magna cum Laude from Meharry Medical College in Nashville, TN. She completed her urological residency at The University of Texas Medical School Houston/M.D. Anderson Cancer Center in 2008.
Dr. DeSouza was named the Director Minimally Invasive Surgery and Endolaparoscopy at Louisiana State University Health Science Center in Shreveport where she was an Assistant Professor of Urology. She was the AUA SES Young Urologist Committee Chairman and has authored several peer reviewed articles including an AUA Update.
Dr. DeSouza became Associate Director of the Residency Program at University of Texas Medical School where she was the Director of the Pelvic Floor Center and Chief of LBJ Hospital Urology Department. In 2013, she was promoted to Associate Professor and also received her subspecialty board certification in Female and Reconstructive Urology. In 2014, Dr. DeSouza relocated to Memphis with her husband and twin girls. She worked in the urology department at University of Tennessee for the next 3 years.
Dr.Desouza is a female urologist who has special interests in female incontinence, voiding dysfunction, pelvic floor prolapse and dysfunction.
Dr. DeSouza's professional memberships include:
Society of University Urologists
Sexual Medicine Society
Society of Urodynamics and Female Urology
Society of Women in Urology
American Urological Association
American Medical Association