The Urology Group
Our urology specialists are focused on your unique and personal health needs.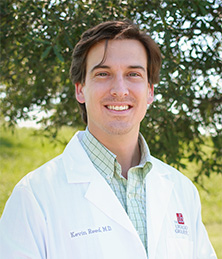 Dr. Kevin Reed completed his Bachelor's degree at Auburn University, graduating with highest honors. He received his Doctorate of Medicine from the University of Tennessee Health Science Center in Memphis. He completed his internship and residency at the University of Tennessee Medical Center in Knoxville, Tennessee, where his areas of research interest included endourology, oncology, men's health, and urinary dysfunction.
Dr. Reed is surgically trained in all areas of urologic care including robotics, laparoscopic surgery, and minimally invasive endourology. He is a member of the American Urological Association and is currently board-eligible through the American Board of Urology.
A Memphis native, Dr. Reed has returned to his hometown to be closer to family, friends, and to serve the community who so greatly shaped his life. In his free time, he enjoys traveling with his fiancé, sampling the world renowned local cuisine, and cheering on the Auburn Tigers, Memphis Tigers, and the Grizzlies.